The University of Maryland MRSEC grants ended in September 2013 after 17 years of successful operation. This site remains as a history of the center, but will not be actively maintained.
Industrial and National Lab Outreach
The UMD-MRSEC co-investigators have a strong program of scientific collaborations with industry, government laboratories and other educational institutions. Our collaborations have been successful, and will continue to grow thanks to the broad range of scientific expertise, represented by the members of our IRG's, and the variety of shared experimental facilities (SEF's) available to our collaborators. We are extending the collaboration program by adding formal contacts with neighboring federal laboratories and by graduate student internships with industry.
The University of Maryland has a unique geographical advantage for collaborations with federal laboratories. Within a 30-mile radius of the campus, there are many federal laboratories with research programs in the areas of materials science and technology development. NIST, NIH, NRL, NSA, ARL, GSFC, the FDA and NOAA all have large research facilities near the campus. These laboratories already have multiple collaborations established with faculty of the University of Maryland.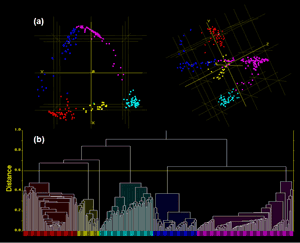 Analysis of structural phase distribution from a combinatorially mapped ternary composition spread of a multiferroic system (a) a metric multidimensional data scaling (MMDS) plot. Each point in the MMDS plots corresponds to an X-ray spectrum; (b) a dendrogram based on the distance matrix, which summarizes similarity information between all X-ray spectra. From Review of Scientific Instruments 78, 072217 (2007).
MRSEC Workshops for Knowledge Exchange: The University of Maryland has strong programs in materials chemistry and nanotechnology that extend across three colleges (Engineering, Physical Sciences, and Life Sciences) and has worked diligently to expand this field of research on the campus for the past decade. The University of Maryland NanoCenter established in 2004 has become the focal point of materials chemistry and nano sciences. MRSEC and the NanoCenter naturally have a strong bond and overlapping activities. A major activity sponsored by the Maryland NanoCenter is an annual one-day, multi-session symposium on Nanoscience and Engineering, and MRSEC plays an important role in this outreach activity to the regional community.
Corporate and Small Business Outreach
National Laboratory Outreach
Coordinator of Industrial & National Lab Outreach:

Ichiro Takeuchi
Professor, Materials Science & Engineering