The University of Maryland MRSEC grants ended in September 2013 after 17 years of successful operation. This site remains as a history of the center, but will not be actively maintained.
Shared Experimental Facilities (SEF)
X-ray Photoelectron Spectroscopy (XPS)
Overview:
This X-ray photoelectron spectroscopic facility provides compositional, oxidation-state, and depth profiling analysis of solid materials. Two X-ray sources and efficient charge neutralization make this instrument suitable for the analysis of conducting and nonconducting samples. The XPS is integrated with Department of Chemistry & Biochemistry's Shared Instruments for materials chemical analysis.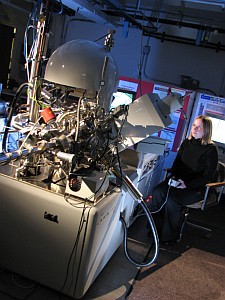 Instrument Designation:
Key Specifications:
Two x-ray sources: Monochromatic Al and Dual anode (Mg/Al)
High sensitivity is achieved with a combination of electrostatic and magnetic lenses, a 165 mm hemispherical analyzer and multi channeltron detection
Coaxial charge neutralization system
Variable temperature (150-750 K) sample stage
XPS imaging (30 micron spot) and multipoint spectroscopy
Depth profiling with argon ion bombardment
Automated sample stage and XYZ manipulator for angle resolved measurements
High vacuum loadlock and preparative chamber
Sample holder capable of holding multiple samples
Kratos Vision and CASA XPS analysis software
Contact:
Dr. Karen Gaskell
XPS Facility Manager
(301) 405-4999