The University of Maryland MRSEC grants ended in September 2013 after 17 years of successful operation. This site remains as a history of the center, but will not be actively maintained.
Seed 2: Synthesis and Exploration of Topological Insulators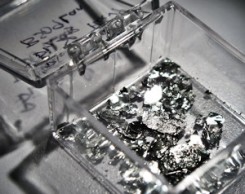 High quality single crystals of bismuth-based topological insulator grown at the Center for Nanophysics and Advanced Materials.
Senior Investigators
Johnpierre Paglione (leader), Physics, CNAM
Michael Fuhrer, Physics, CNAM
H. Dennis Drew, Physics, CNAM
Ichiro Takeuchi, Materials Science & Engineering
Bryan Eichhorn, Chemistry & Biochemistry
Topological insulators are a newly discovered class of materials with strong potential for impact in both fundamental science and future technologies. Differing from conventional insulators by the presence of a metallic, topologically-protected surface state that is spin-polarized, these materials offer a new avenue for technologies based on the manipulation of electron spin (rather than charge) in solids, as well as potential for other advances in high-mobility devices, spintronics and fault-tolerant quantum computation. This research program is focused on the synthesis, characterization and optimization of topological insulating materials for study by a unique interdisciplinary research team aimed at elucidating the scientific and technological potential of these materials.
Highlights
Publications