The University of Maryland MRSEC grants ended in September 2013 after 17 years of successful operation. This site remains as a history of the center, but will not be actively maintained.
Facilities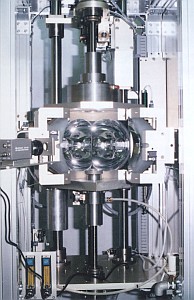 Floating Zone Furnace
Overview:
Our floating zone furnace (Crystal Systems Inc.Model FZ-T-12000-X-S) employs four halogen optical lamps to achieve crystal growth temperatures up 2100ºC at pressures of 10-8 - 10 bar and is particularly suited to the growth of oxide single crystals. It permits growth of both congruent and incongruent melting systems. This system is utilized to prepare crystals with high spin polarization, as well as ferroelectric materials.
Contact:
Dr. Sang-Wook Cheong
Professor, Rutgers University
(732) 445-4607