The University of Maryland MRSEC grants ended in September 2013 after 17 years of successful operation. This site remains as a history of the center, but will not be actively maintained.
Shared Experimental Facilities (SEF)
Variable Temperature UHV Scanning Tunneling Microscope
Overview:
This microscope provides atomically-resolved topographic images of crystalline surfaces, films, and supported nanostructures. Maps of the surface electronic structure are obtained via spatially-resolved Scanning Tunneling Spectroscopy.
Instrument Designation: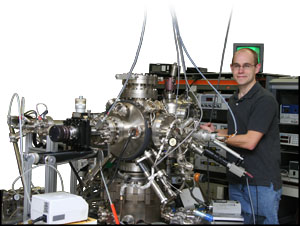 Omicron Nanotechnology UHV-VT-STM
Nanonis SPM Controller
Key Specifications:
Conducting Samples
25 K - 1500 K temperature window
25 pa - 50 nA STM and STS
10 µ scanner
6 mm coarse positioning
in situ sample processing - sputtering/thermal/deposition
rapid-entry loadlock to 10-10 torr SPM chamber
Contact:
Dr. Bill Cullen
MRSEC SPM Facilities Manager
(301) 405-0076