The University of Maryland MRSEC grants ended in September 2013 after 17 years of successful operation. This site remains as a history of the center, but will not be actively maintained.
2011 REU Gallery
Check out what's going on the UMD MRSEC REU Program!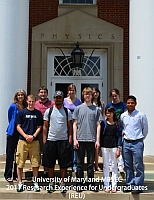 Click the images for larger versions!
On this page:
August 12, 2011: Poster Session
July 27, 2011: Bowling & Billiards
July 8, 2011: Mid-Program Review
June 28, 2011: The Path to Graduate School Panel Discussion
June 21, 2011: NIST Tour
June 14, 2011: American Institute of Physics Careers Seminar
June 11, 2011: REU DC Adventure to the National Air and Space Museum
June 6, 2011: Orientation