The University of Maryland MRSEC grants ended in September 2013 after 17 years of successful operation. This site remains as a history of the center, but will not be actively maintained.
Pre-College Programs
Summer Camps

The UMD-MRSEC summer camps were established in 2001. The camps provide a venue to share cutting-edge science and technology, and to generate interest among budding young scientists. The camps also strive to build confidence in studentsí abilities in and perception of science and engineering. The camps are designed with teachers to meet STEM curriculum needs and standards, and to build appreciation for science and engineering. Students from partner schools and homeschool programs attend. High school camps include specific curriculum goals that are incorporated into studentsí fall semester learning and final semester evaluation. Camps offered during summer 2013 are listed below. For a list of our previously offered camps, click here.
Please also see our summer camp Frequently Asked Questions (FAQ).


Meet the 2013 Summer Camp Staff!
Public Pre-College Camps: Summer 2013
These programs are open to all students.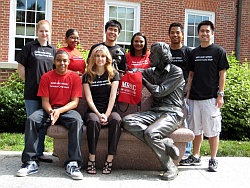 Hands-on Science: Observe, Investigate, and Discover!
For: Students Entering Grades 5-6
Dates: August 5 - 9, 2013
REGISTRATION FOR THIS CAMP IS CLOSED
Waitlist: If you would like to send an application to be on the waitlist, you may. However, please note that these applications will not be processed unless space opens in a session.
Partner Camps: Summer 2013
These programs are extensions of academic year curriculum activities.

Science, Engineering, & You
For: Berwyn Heights Students Entering Grades 4-5
Dates: July 22 - 26, 2013

Nanoscience: The World Smaller than a Human Hair
For: Berwyn Heights Students Entering Grades 6-7
Dates: July 29 - August 2, 2013